User-friendly security system, that suits your needs.
Car-Őr is not just a car alarm with various sensors added, it's a complex vehicle protection system made of many separate security units instead, whose separate parts located in different places within the car can severally prevent stealing or starting it.
Our goal is to create a user-friendly and easy to use vehicle security system, which does not affect any of the standard, factory installed systems or the comfort level. It means, that after the installation, you don't have to do anything. Just enter the car and start it, while the system enables itself unobserved.
The Car-Őr system makes possible to control it from your phone and makes your car communicate with you.
Car-Őr Vehicle Security ensures maximum safety not only on traditional diesel or petrol fueled cars, but also on the newest Hybrid, Plug-in Hybrid and Electric cars.
Makes it all without any monthly fee and on affordable price.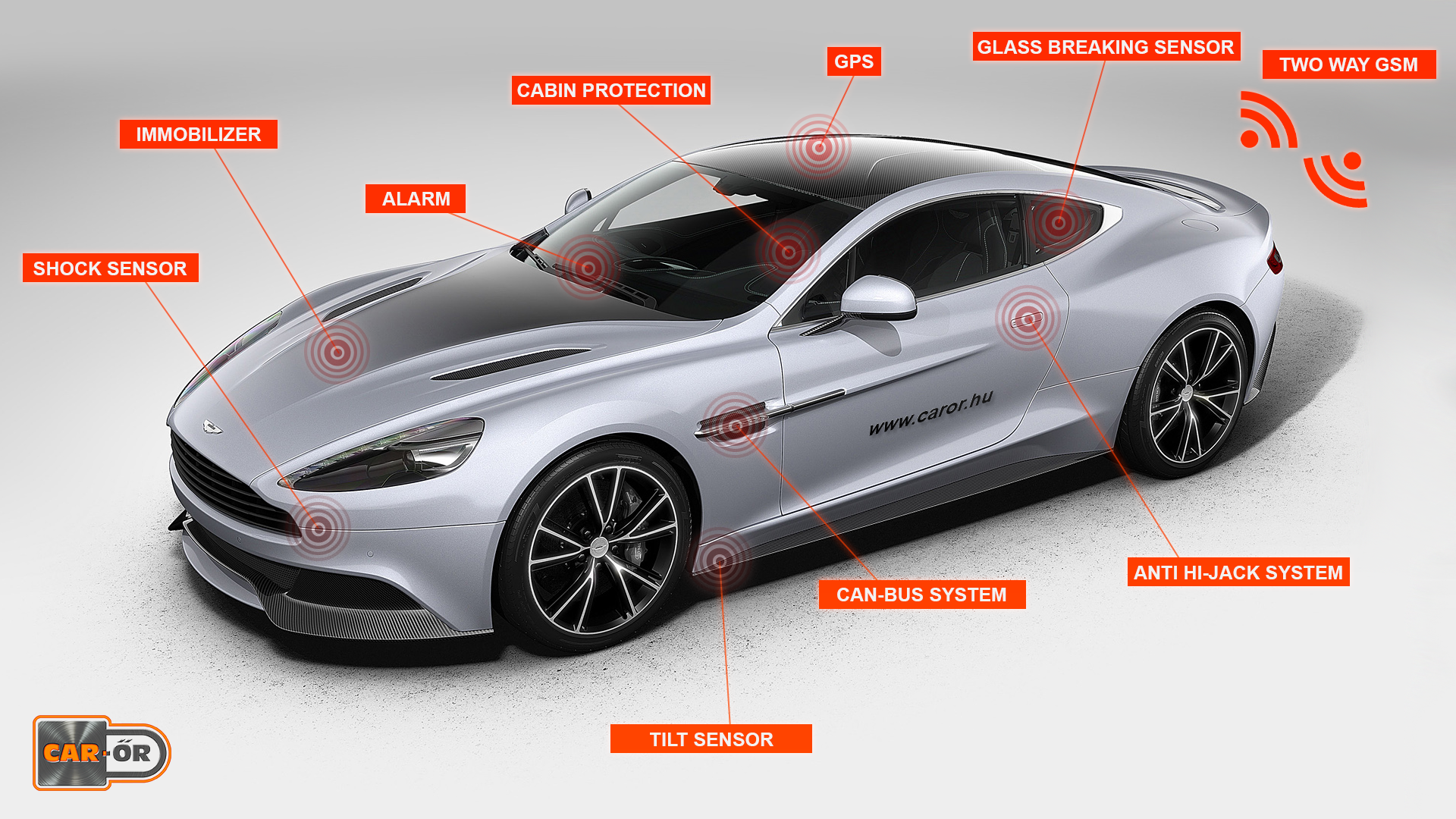 Dear Visitor,
Thank you for considering the installation of our latest development, the Car-Őr Vehicle Security. You'll find every important information on this site.
Maximum security, maximum comfort.
The nationwide car theft statistics are availalbe for everyone who's interested. The ageing vehicle market requires a cheap source of spare parts, and this creates a need for stolen car parts even more. Replacing a stolen vehicle is always a hard problem. Unfortunately experience shows that the insurance - if there is one - does not mean a 100% compensation in every case. On that basis it is clear, that the security of the vehicles needs to be upgraded.
Many vehicle security system can be found on the market. We can assure you, Car-Őr is the best choise. We can confirm our statement by the following:
Our company has been installing these complex vehicle security systems since many years. The system's units were chosen after long term tests and trials. The hardware and software of the technology that prevents the car engine from starting up is our own development, differs from the rest of the solutions found on the market. The information we've collected in the past few years makes us think that our vehicle security system is really a good choise for every user.
Contrary to popular opinion, it is very important for our company to keep the car's comfort besides the highest level of security. This means, that the factory designed opening and starting routine won't change. We think that the engineers of the vehichle manufacturers made a proper job and the comfortable opening and starting routine they created needs to be expanded instead of removing or bypassing it.
1. The properties of our system are the following:
The CAR-ŐR IQ package is a system made of multifarious security units placed at multiple locations within the car. The devices that provide the blocking are our own development (H-Tech). The Car-Őr Vehicle Security partly uses the factory installed wiring. This way it gives us high level of comfort and makes it easy to use. (There's no need for any external remote, keypad or security card.)
We are convinced that the cars exist to serve us, don't make the usage harder with the security system.
The CAR-ŐR vehicle security uses the car's factory installed CAN-BUS system to gain information from it, but this is a one way communication, it does not modify the softwares. The car's warraty will be still valid. The system also can block the intrusion on the diagnostic port.
Carjacking prevention with the latest Bluetooth technology is part of the CAR-ŐR vehicle security, it is protecting the car even if the car keys or the factory remote it stolen.
The GPS-GSM unit is an integral part of the vehichle security, it notifies us about every status change of the vehichle and gives us information about the location of the car. We can even send commands to the car, so we can intervene if it gets stolen.
We can provide all these without any monthly fee, there's only a one-time installation price.
It is important to mention that the system was not designed for online tracking, still it allows us to download the location of the car (such as we'd like to find the car in a city unkown for us or in a huge parking lot) and we can keep track of the movement of the car if it gets stolen.
2. Purchase and installation process:
The product can be installed into any vehichle.
For schedule an appointment call these numbers:
+36 1 405-0090
+36 20 591-2291
The comlexity of the sytem makes the installation to take usually a whole day.
The GPS-GSM unit requires a working, activated SIM card. This SIM card is needed only for queries, the only cost will be generated by SMS sending, so a simple prepaid SIM card is recommended. Any service provider's SIM card can be used.
The installation is done at our company's workshop:
1162 Budapest,
Csömöri út 203. (Htech Auto)
3. Warranty:
The CAR-ŐR system comes with a standard one year warranty. Our colleagues can answer any questions regarding the usage of the system.
4. Protection of personal data:
Every installed package has got a unique ID, which we document and store securely. This data can be accessed only by our authorized collegaues. The data about your installed security system will be available for you even after years. (This might be important if you want to sell your car. The new owner can customize the system and the settings, edit the allowed phone numbers and passwords.)
Vásároljon Cetelem online áruhitellel!
Áruhitel Referencia THM: 0% 2 000 000 Ft hitelösszeg és 10 hónap futamidő esetén.
Futamidő: 4, 6 vagy 10 hónap. Az igényelhető hitelösszeg: 25 000 Ft-tól 2 000 000 Ft-ig terjedhet.
Szükséges önrész, a vételár függvényében: 200 000 Ft-ig önrész nélkül, 200 001 Ft-tól 300 000 Ft-ig min. a vételár 10%-a, 300 001 Ft-tól min. a vételár 20%-a.
A HTECH-AUTÓ Kft. a Magyar Cetelem Zrt. (Bank) hitelközvetítője, a Bank a hitelbírálathoz szükséges dokumentumok meghatározásának, a hitelbírálatnak a jogát fenntartja, valamint az ajánlati kötöttségét kizárja. További részletek áruhitel pultnál, az általános szerződési feltételekben és a vonatkozó hirdetményekben. https://www.cetelem.hu/ segedlet/dokumentumok
Érvényes: 2018. május 14. és 2018. december 31. között, az üzlet által megjelölt termékekre.